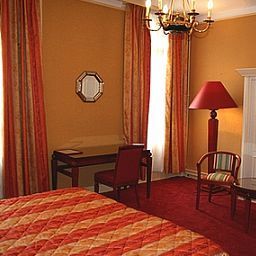 Logis Le Mouton Blanc
33 rue Alsace Lorraine, Cambrai, FR (0km z Bevillers)
Informace o hotelích a cenách
Mapa
Fotografie
Popis
Style of hotel and ambience.
The 19th century hotel & restaurant "Le Mouton Blanc" was purchased by our family in 1986. It has preserved all of the charms of yesteryear, while offering the levels of comfort expected by today's guests. In our restaurant you can enjoy light, personalised dishes, with a strong regional influence, accompanied by a fine selection of wines. All in all - well worth a visit.
Special features of the hotel.
Logis Hotel 2 Fireplaces and 2 Cocottes restaurant grading
Hotel location, surroundings and sights.
Cambrai, capital of the Cambresis region, a welcoming historical town. Our hotel is in the centre of town, and therefore close to a range of sites. Museum, large public park, 10 km from the Matisse museum, Vaucelles abbey...